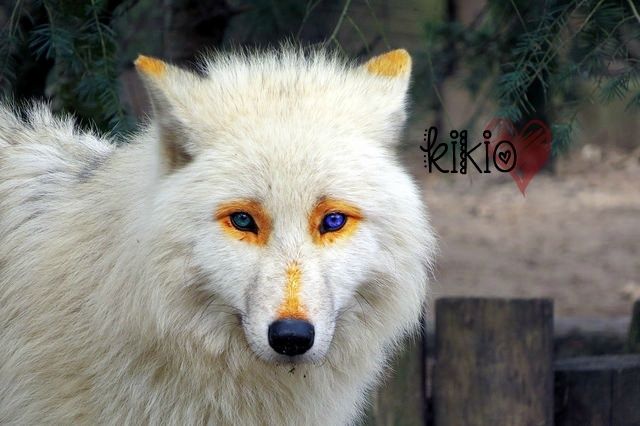 .::Full Name::.
Kikio Novelty
.::Pronunciation::.
Key-Key-Oh or Kee-Kee-O
.::Nickname(s)::.
Kiki, Kikiyo(key-key-yo), Key, Kiosk, Coco, Kiko(Key-Ko[pronounce go but replace the 'g' with a 'k']), etc.
.::Maturity::.
2 years
in half a year 3
.::Birth Season::.
Late Winter
.::Sex::.
♀ Female/Fae/Feminine
.::S.O::.
♂ Males | Straight
.::Heritage::.
Grey Wolf (Canis Lupus) & Arctic Wolf(Canis lupus arctos)
.::Language::.
○ English
○ French ♥
○ Russian
(not great)
.::Desired Rank::.
Knight
.::Over All::.
Kikio is a well built female, she is larger than the average female, about the size(but slightly smaller) then the average male. She is muscular but not too muscular, she can still run with speed because her muscle doesn't weight her down as most muscular wolves. Her banner is fluffy and very soft, like how clouds are described, she has spots all over tail. Which gives it a unique look. Her eyes are multi-colored and its usually what wolves first see when they look at her, that and her markings. Although her right eye resembles green in some directions or shades of light, they are actually a bright blue. Her left eye is a puple but is closer to a shade of dark blue.
.::Fur Texture::.
Soft to the touch, her fur is very thick but doesn't appear very long because it isn't.
.::Fur Color::.
Kikio is obviously a milky color, with some splashes of mango, in the form of markings.
.::Fragrance::.
Berry Cobbler
.::Voice::.
Her voice tends to be a calming tone that sounds pleasant and never quivers.
.::Optics::.
Her right optic is a sapphire, while her left optic is a indigo and sapphire mix, however it looks more like blue.
.::Markings/Scars::.
The female carries no scars, she usually walks away from a fight with no really bad bites or wounds. She has mango circles around both her eyes, golden on her ear tips. She has golden dots coming from her right ear, it curves down toward her other markings toward her right shoulder. You can barely see it since it blends so well with her coat, in-fact no one has yet commented on her dots. Suggesting that they cannot see them, for one to see the dots they must be really close to her. Ginger is also on her tail and spreads it out into dots that is smaller and less spread the farther up her tail you go. On her paws is also ginger, they climb up her legs and create a unique design.
.::Temperament::.
Kikio, at first, tends to be a bit shy, if she's in a new environment. She will hardly speak, mostly observe the wolves. Although she does speak, it may only be a sentence or two. At this time she also tends to smile a lot, even if someone criticize her or her smile, she will continue doing it. She doesn't really care about someone talking about her and usually brushes it off, however sometimes she does get 'hot' and at this time it's best to give her, her space and let her calm. Once she begins to warm up to you, she may flirt or tease you a lot, maybe even do both. If she likes you
(crush wise)
at this stage, it's shown by a few signs. She will blush and look away alot, flatten her ears and offer a cute smile, and she may even offer affection. During the time she gets used to you, she will usually talk to you more and stay close to you or she may even get caught up in sometimes and walk away, leaving you talking. Kikio may even run up to you and tackle you if she hasn't seen you in a while, she will usually begin to greet you with a wag of her tail or a smile. If you anger her, even at her shy stage(she won't appear shy anymore), she will usually snarl, snap, and spit
(spit words)
with aggression. If you piss her off, she will attack you, or if you challenge her. She does tend to curse in french or mumble words of anger in french. Her go-to language is English, since most wolves speak it. She was, however, raised speaking French and soon learned English by the time she was 1.
.::Likes::.
▲ Having Fun / Playing
▲ Being Serious When Its Time To Be
▲ Swimming as well as Fighting
▲ Snow, Rain, Sleet, etc. (Not large or medium hail)
▲ Puppies, as well as learning new things or teaching
.::Dislikes::.
▼ Embarrassment
▼ Rude / Disrespectful Wolves
▼ Annoying / Idiotic Wolves
▼ Losing, Fights
▼ Wolves Who Are Full Of Themselves (in a annoying way)
.::Strengths::.
¤ Fighting Skill & Technique
¤ Strong Bite
¤ Swimming
¤ Agile
¤ Silent
¤ Stealth
.::Weaknesses::.
° Healing
° Extreme Loyalty (can get her hurt)
° Love (she will do anything for those she loves)
° Not a great hunter
.::Sire::.
Keshire Novelty
.::Dam::.
Shine Litchi  
.::Siblings::.
Ask to become sibling!
.::Past Crush(s)::.
None
.::Significant Other::.
No one, available c;
.::Offspring(s)::.
None...
.::Acquaintances::.
None
.::Friendship's::.
None
.::Enemies::.
Enemies of the pack and predators
.::History::.
Kikio was born into a small pack who where all French speakers but they all knew English as a second language. Kikio and her siblings found it fun to flirt and tease other wolves. So they did, lots of wolves from her pack became her friends and when it was time to part ways, she found it hard to say good bye. She left a few months after she turned one, her hunting skills were really bad but she stuck with hunting smaller prey. This improved her hunting skills but larger prey do know that she lacks experience and attack. Kikio then found herself in a new land of deeper and colder weather. She now seeks a pack called "Tarsus" were she hopes to join.
.::Theme Song::.
♪ Prayer In C
(Robin Schulz Remix)
♫ ~
Lilly Wood & The Prick and Robin Schulz
♪ Shooting Star ♫ ~Owl City
.::Reference::.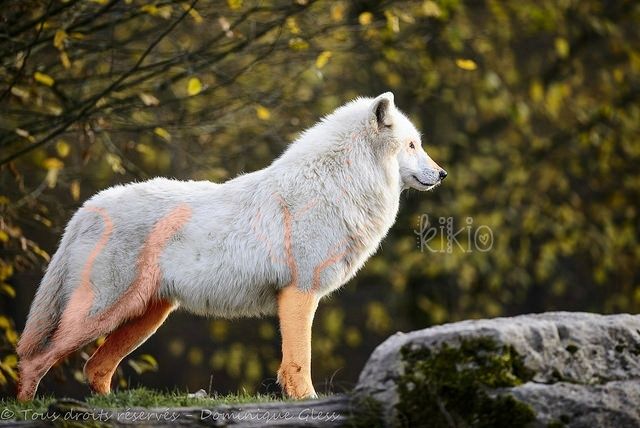 (So complicated, if you want to draw her you got your hands full)
.::Joining Pack::.
Tarsus